$16.99
AUD
Category: Fiction
Through the glass, the magic is waiting... Nona and her uncle travel everywhere together, replacing stained-glass windows in war-torn buildings throughout England. One day a mysterious commission takes them to the lonely moors of Dartmoor, where a powerful magic threatens everything that Nona holds dear . She is determined to do whatever it takes to protect those she loves – even if it means fighting darkness itself. A beautifully imaginative and rich adventure about determination, courage and the power of love, set in the aftermath of World War Two. Perfect for fans of Abi Elphinstone, Sophie Anderson and Catherine Doyle.   ...Show more
$19.99
AUD
Category: Fiction | Reading Level: Teen
Remember daughter, the world is a lot bigger than anyone knows. There are things that science may never explain. Maybe some things that shouldn't be explained. Stacey and Laney are twins - mirror images of each other - and yet they're as different as the sun and moon. Stacey works hard at school, determ ined to get out of their small town. Laney skips school and sneaks out of the house to meet her boyfriend. But when Laney disappears one night, Stacey can't believe she's just run off without telling her. As the days pass and Laney doesn't return, Stacey starts dreaming of her twin. The dreams are dark and terrifying, difficult to understand and hard to shake, but at least they tell Stacey one key thing - Laney is alive. It's hard for Stacey to know what's real and what's imagined and even harder to know who to trust. All she knows for sure is that Laney needs her help. Stacey is the only one who can find her sister. Will she find her in time? ...Show more
$19.99
AUD
Category: Young Adult | Reading Level: Teen
CBCA WINNER 2020:Book of the Year: Older Readers Sixteen-year-old Nate McKee is doing his best to be invisible. He's worried about a lot of things--how his dad treats Nance and his twin half-brothers; the hydro crop growing in his bedroom; the way his friend Merrick always drags him into fights. And he has never forgiven his mother for leaving. But none of it is his fight, right? He's just waiting for his time. Nate hangs out at YouthWorks, the local youth centre threatened with closure, and fills his notebooks with the things he can't say. But when some of his pages are stolen and his words are graffitied on the wall of the centre, Nate realises he has allies. He might be able to make a difference, change his life, and claim his future. Or can he? This is How We Change the Ending is a story that will have you on the edge of your seat, hoping Nate will find a way out, despite the odds. 'Vikki Wakefield is one of the most creative and daring authors writing for young adults today.' Danielle Binks 'When I finish a Vikki Wakefield novel I get a tiny ache in my heart because I'm already missing her gutsy characters.' Melina Marchetta 'Vikki Wakefield is one of Australia's best YA writers.' Cath Crowley ...Show more
$19.99
AUD
Category: Young Adult | Reading Level: Teen
Edgar Award nominee stuns in this heartrending tale set in a Swaziland boarding school where two girls of different castes bond over a shared copy of Jane Eyre. Adele Joubert loves being one of the popular girls at Keziah Christian Academy. She knows the upcoming semester at school is going to be great with her best friend Delia at her side. Then Delia dumps her for a new girl with more money, and Adele is forced to share a room with Lottie, the school pariah, who doesn't pray and defies teachers' orders. But as they share a copy of Jane Eyre, Lottie's gruff exterior and honesty grow on Adele, and Lottie learns to be a little sweeter. Together, they take on bullies and protect each other from the vindictive and prejudiced teachers. Then a boy goes missing on campus and Adele and Lottie must rely on each other to solve the mystery and maybe learn the true meaning of friendship. ...Show more
$22.99
AUD
Category: Young Adult | Series: The Trials of Apollo
It's time to face the final trial . . .The battle for Camp Jupiter is over. New Rome is safe. Tarquin and his army of the undead have been defeated. Somehow Apollo has made it out alive, with a little bit of help from the Hunters of Artemis.But though the battle may have been won, the war is far from ov er.Now Apollo and Meg must get ready for the final - and, let's face it, probably fatal - adventure. They must face the last emperor, the terrifying Nero, and destroy him once and for all.Can Apollo find his godly form again? Will Meg be able to face up to her troubled past? Destiny awaits . . . ...Show more
$17.99
AUD
Category: Young Adult | Series: School for Good and Evil
Beyond Good and Evil. Beyond Ever Afters. The fairy tale of Sophie and Agatha comes to a dramatic conclusion in this sixth and final book of Soman Chainani's bestselling fantasy series. Who will sit on Camelot's throne and rule the Endless Woods? Who will be the One True King? Prepare yourself for the End of Ends . . . ...Show more
$16.99
AUD
Category: Young Adult | Series: Red Queen | Reading Level: Teen - Grade 7-9, Age 12-14
The electrifying next installment in the #1 "New York Times"-bestselling Red Queen series escalates the struggle between the growing rebel army and the blood-segregated world they've always known and pits Mare against the darkness that has grown in her soul.
$16.99
AUD
Category: Young Adult | Series: Red Queen
The #1 New York Times bestselling Red Queen series comes to a stunning conclusion in War Storm.VICTORY COMES AT A PRICE.Mare Barrow learned this all too well when Cal's betrayal nearly destroyed her. Now determined to protect her heart--and secure freedom for Reds and newbloods like her--Mare resolves t o overthrow the kingdom of Norta once and for all . . . starting with the crown on Maven's head.But no battle is won alone, and before the Reds may rise as one, Mare must side with the boy who broke her heart in order to defeat the boy who almost broke her. Cal's powerful Silver allies, alongside Mare and the Scarlet Guard, prove a formidable force. But Maven is driven by an obsession so deep, he will stop at nothing to have Mare as his own again, even if it means demolish everything--and everyone--in his path.War is coming, and all Mare has fought for hangs in the balance. Will victory be enough to topple the Silver kingdoms? Or will the little lightning girl be forever silenced?In the epic conclusion to Victoria Aveyard's stunning series, Mare must embrace her fate and summon all her power . . . for all will be tested, but not all will survive. ...Show more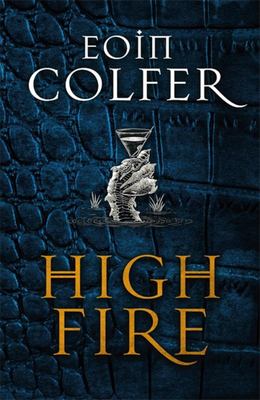 $32.99
AUD
Category: Young Adult
From the internationally bestselling author of the Artemis Fowl series: Eoin Colfer's first adult fantasy novel is a hilarious, high-octane adventure about a vodka-drinking, Flashdance-loving dragon who's been hiding out from the world - and potential torch-carrying mobs - in a Louisiana bayou . . . unt il his peaceful world's turned upside down by a well-intentioned but wild Cajun tearaway and the crooked (and heavily armed) law officer who wants him dead. Squib Moreau may be swamp-wild, but his intentions are (generally) good: he really wants to be a supportive son to his hard-working momma Elodie. But sometimes life gets in the way - like when Fake Daddy walked out on them leaving a ton of debt, or when crooked Constable Regence Hooke got to thinking pretty Elodie Moreau was just the gal for him . . . An apprenticeship with the local moonshine runner, servicing the bayou, looks like the only way to pay off the family debts and maybe get Squib and his momma a place in town, far from Constable Hooke's unwanted courtship and Fake Daddy's reputation. Unfortunately for Squib, Hooke has his own eye on that very same stretch of bayou - and neither of them have taken into account the fire-breathing dragon hiding out in the Louisiana swamp . . . For Squib Moreau, Regence Hooke and Vern, aka Lord Highfire of Highfire Eyrie, life is never going to be the same again. Highfire is a genre-bending tour-de-force of comedy and action by the million-copy-selling master storyteller.     ...Show more
$16.99
AUD
Category: Young Adult | Reading Level: Children's - Grade 4-6, Age 9-11
One paper plane flies straight and fast and true. Dylan's. Twelve-year-old Dylan Webber lives in outback Western Australia in a small country town. When he discovers he has a talent for folding and flying paper planes, Dylan begins a journey to reach the World Junior Paper Plane Championships in Japan. Along the way he makes unlikely new friends, clashes with powerful rivals, and comes to terms with his family's past before facing his greatest challenge--to create a paper plane that will compete with the best in the world. Steve Worland brings you the exciting, heartwarming story of Paper Planes, adapted from the award-winning family film that features a cast of Australia's finest actors, including Sam Worthington, Deborah Mailman, David Wenham, and Ed Oxenbould.   ...Show more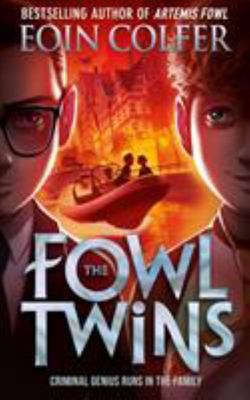 $19.99
AUD
Category: Young Adult | Series: The Fowl Twins | Reading Level: very good
Criminal genius runs in the family... Myles and Beckett Fowl are twins but the two boys are wildly different. Beckett is blonde, messy and sulks whenever he has to wear clothes. Myles is impeccably neat, has an IQ of 170, and 3D prints a fresh suit every day - just like his older brother, Artemis Fowl. A week after their eleventh birthday the twins are left in the care of house security system, NANNI, for a single night. In that time, they befriend a troll on the run from a nefarious nobleman and an interrogating nun both of whom need the magical creature for their own gain . . . Prepare for an epic adventure in which The Fowl Twins and their new troll friend escape, get shot at, kidnapped, buried, arrested, threatened, killed (temporarily) . . . and discover that the strongest bond in the world is not the one forged by covalent electrons in adjacent atoms, but the one that exists between a pair of twins. The first book in the blockbusting new series from global bestseller Eoin Colfer. ...Show more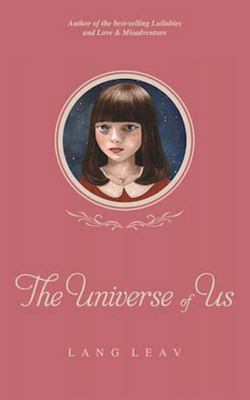 $27.99
AUD
Category: Young Adult | Series: Lang Leav Ser.
Planets, stars, and constellations feature prominently in this beautiful, original poetry collection from Lang Leav. Inspired by the wonders of the universe, the best-selling poetess writes about love and loss, hope and hurt, being lost and found. Lang's poetry encompasses the breadth of emotions we a ll experience and evokes universal feelings with her skillfully crafted words. ...Show more