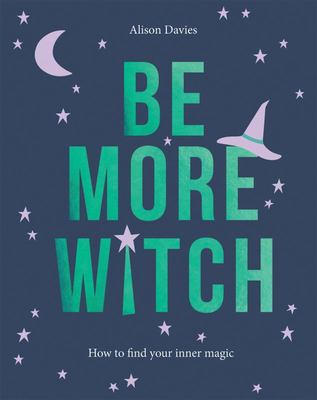 $19.99
AUD
Category: Spirituality | Series: Be More Ser.
Witches have enchanted us throughout the centuries with their darkness, mysticism and individuality. Once persecuted, they have now been adopted by millennials as a symbol of feminine strength. Their belief in magic is increasingly causing people to question the arranged order, break out of pre-defined social norms and look for answers elsewhere in this demanding technological age. Be More Witch offers a dose of magical escapism that will help you to channel determination and manifest positive change. Sore through the sky with (or without ) a trusty broomstick and let your creative spirit fly Look to nature and learn from your surroundings and get in tune with the elements, plants, herbs, flowers and of course, your spirit animals. With tips, tricks and spells this book will guide you on magical journey to discover the power that's waiting to burst from within. So are you ready to dip your toes into the cauldron? Your fate is at your fingertips... ...Show more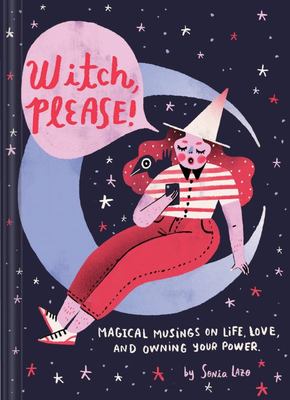 $29.99
AUD
Category: Spirituality
There's more than one way to be a witch Some witches harness the properties of herbs and crystals, and some craft their own spells and rituals for empowerment and success; some dress all in black, and some prefer a more colorful aesthetic. Author and illustrator Sonia Lazo celebrates the power and diver sity of contemporary witches in this enchanting love letter to all things occult. Her charming illustrations offer an inclusive, body-positive message to modern mystics all over the world, reminding readers that anyone can tap into their inner magic--all you have to do is be true to yourself. ...Show more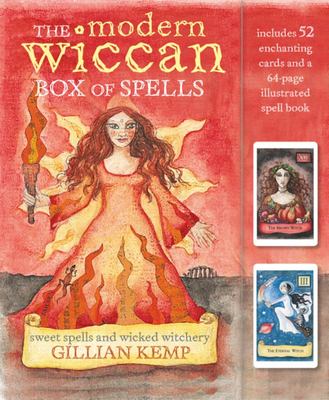 $34.99
AUD
Category: Spirituality
Do you want to charm the love of your life, instigate a promotion at work, or banish a bad friend? With this fun book and card set, get in touch with your inner witch and ensure life goes as planned! The 52 charming cards come in two suits--Good Witches and Bad Witches--and the book explains their meani ngs. You can lay them out like tarot cards to predict the future, and cast the spell that accompanies each card to weave magic, both white and dark. Just remember that the Good Witch spells turn toads into princes, and the Bad Witch spells turn princes into toads... ...Show more
$29.99
AUD
Category: Spirituality | Series: Green Witch Ser.
Discover the power of natural magic and healing through herbs, flowers, and essential oils in this new guide to green witchcraft.   At her core, the green witch is a naturalist, an herbalist, a wise woman, and a healer. She embraces the power of nature; she draws energy from the Earth and the Universe ; she relies on natural objects like stones and gems to commune with the land she lives off of; she uses plants, flowers, oils, and herbs for healing; she calls on nature for guidance; and she respects every living being no matter how small.   In The Green Witch, you will learn the way of the green witch, from how to use herbs, plants, and flowers to make potions and oils for everyday healing as well as how crystals, gems, stones, and even twigs can help you find balance within. You'll discover how to find harmony in Earth's great elements and connect your soul to every living creature. This guide also contains directions for herbal blends and potions, ritual suggestions, recipes for sacred foods, and information on how to listen to and commune with nature. Embrace the world of the green witch and discover what the power of nature has in store for you. ...Show more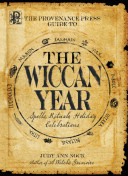 $26.99
AUD
Category: Spirituality
In The Provenance Press Guide to the Wiccan Year, High Priestess Judy Ann Nock offers a definitive guide to the Wheel of the Year. Capturing the essence of both the major and lesser holidays, this complete and practical reference offers something for everyone, from history and recipes, to crafts and rit uals, spells and meditations, regardless of your level of practice. There are many ways to acknowledge the passage of time, whether the observance is simple or elaborate. In these pages, there are several appropriate cyclic activities to honor the changing of the seasons. Written to inspire and expand your practice as you move through the eight Sabbats, Nock provides you with: The astrological and astronomical influences that govern the seasons Meditations that reflect timely themes Rituals and crafts to enhance your spiritual expression Beginning with Samhain, the witch's New Year, and ending with the harvest of Mabon, The Provenance Press Guide to the Wiccan Year enables you to deepen your spiritual path, regardless of the time of year. AUTHOR: Judy Ann Nock is a Wiccan High Priestess and founder of a goddess spirituality group. She has a degree in creative writing and theater. The author of A Witch's Grimoire, her work on feminist spirituality has also been profiled in the Village Voice. She lives in New York City. ...Show more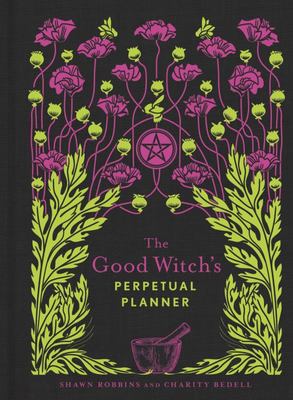 $19.99
AUD
Category: Spirituality | Series: The\Modern-Day Witch Ser.
From the bestselling authors of The Good Witch's Guide comes this essential, magick-filled planner for all witches and Wiccans. This 12-month perpetual planner for good witches provides a place to plan and track everything from daily tasks and key rituals to the sacred holidays and solstices on the Wh eel of the Year. It's chock-full of notes on holistic Wiccan magickal tips, spells, lore, and recipes distilled from the popular The Good Witch's Guide by Shawn Robbins and Charity Bedell. And because it is perpetual you can jump in at any time of the year. ...Show more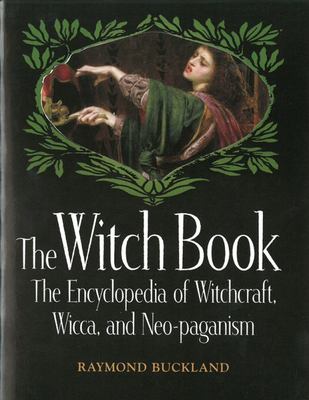 $79.99
AUD
Category: Spirituality | Series: Visible Ink Ser.
A look at Witches, Witchcraft and the Wicca tradition from the author of Buckland's Complete Book of Witchcraft From Abracadabra to Aleister Crowley to Gardnerian Witchcraft to Rosemary's Baby to sorcery and Zoroaster, The Witch Book by the late, great Raymond Buckland is unmatched in its coverage of w itchcraft's historical, practical, and cultural aspects. A student of the late Wicca pioneer Dr. Gerald Gardner, Raymond Buckland has been widely credited with introducing Wicca to the United States. He was one of the world's foremost experts on Witchcraft, Wicca, and Earth religions. With 560 entries, a resource section, and 114 photos and illustrations, this is an exhaustive exploration of Witchcraft, Wicca, paganism, magic, people, places, events, literature, and more. It shows how, in pre-Christian and early Christian times, Witchcraft (with a capital "W") was a magical and healing practice associated with early spirtual beliefs, including how the word "Witch" comes from the Old Anglo-Saxon wicce or wicca, meaning a "wise one" the wiseman or -woman of the common people who had knowledge of herbs, healing, augury, and magic. It also tackles how Witchcraft and paganism were erroneously linked with Satanism, black magic, and pop-culture distortions. It defines both the darker Christian concept and the true concept of Wicca, concentrating on the Western European and later New World versions of Witchcraft and magic. The Witch Book is a broad and deep look at witches, witchcraft and the Wicca tradition. ...Show more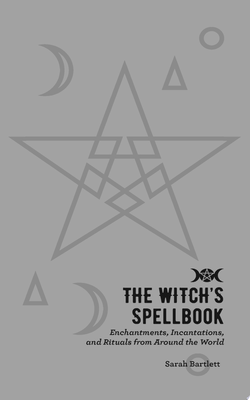 $24.99
AUD
Category: Spirituality
Magic is in every part of the living world--one just needs to know how to tap into it.The Witch's Spellbook is a powerful collection of spells, rituals, and enchantments that you can use to tap into your intuition and the power of the natural world. This book reveals how, by casting spells that align to the cycles of nature and the universe, you can begin to manifest your dreams and shape your destiny. Organized by topic, such as spells for prosperity, charms for body, beauty, and sex, or enchantments for creativity and charisma, each spell draws upon world traditions, sacred holidays, and lunar events such as solstices and equinoxes. Whether you're new or experienced, this is every person's guide to practical magic. ...Show more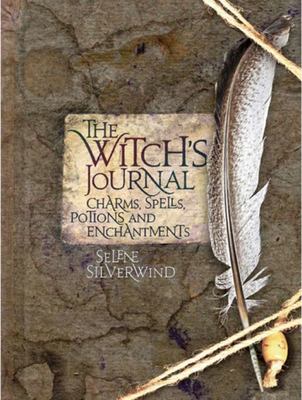 $24.99
AUD
Category: Spirituality
Need help to find new love or a better job, get a cranky boss to lighten up, release stress or simply find a parking space? 'The Witch's Journal' is full of charms, spells, potions, enchantments, lore and simple rituals. Unlike many spell books, the tools and ingredients listed in these pages are common household items. ...Show more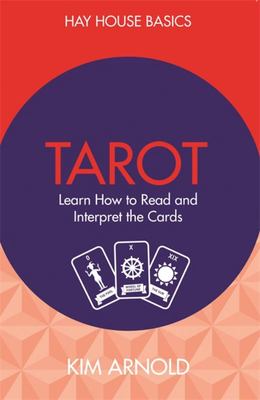 $21.99
AUD
Category: Spirituality | Series: Hay House Basics
This book will teach you how to connect with the time-honoured wisdom and spiritual power of the tarot, and make major decisions - just by turning a card. You'll learn how to: choose the right deck for you; interpret each of the 22 Major Arcana cards; understand the four suits of Tarot and the meaning o f Court cards; interpret each of the 56 Minor Arcana cards; and weave the meaning of cards together during a reading. Hay House Basics is a new series that features world-class experts sharing their knowledge on the topics that matter most for improving your life. If you want to learn a new skill that will enhance your wellbeing, Hay House Basics guarantees practical, targeted wisdom that will give you results! ...Show more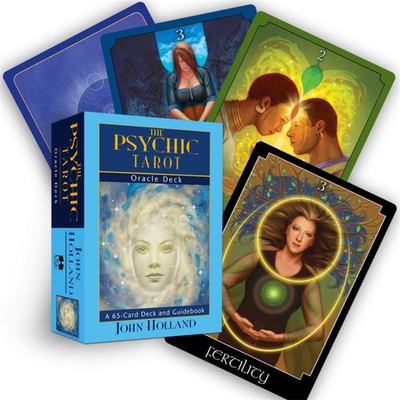 $29.99
AUD
Category: Spirituality
The 65 beautifully illustrated cards in this deck will create a powerful bridge between your psychic abilities and the ancient knowledge and meanings of the tarot and will help you develop intuitive insights about all areas of your life, including love and relationships, business matters and even career changes. This fascinating deck will guide you whether you're a novice or are already in tune with your psychic abilities. In the accompanying guidebook, psychic medium John Holland imparts techniques that he's practiced himself and taught in his workshops, relating to colours, symbology, shapes, words, card spreads, divination, numerology, energy centers, imagination and more. The cards give an insight into John's advanced techniques which are invaluable whether giving a reading for yourself or others. ...Show more
Good Tarot
by Colette Baron-Reid
$29.99
AUD
Category: Spirituality
When Colette Baron-Reid first began doing professional readings almost 30 years ago, she used the traditional tarot as a source of intuitive guidance. Now she has taken the classical form and given it a modern twist, with suits and meanings that are focused on transformation and personal growth.Grounded in a divination system that dates back centuries, The Good Tarot has a psychic architecture that's more simple and modern, rooted in contemporary positive psychology and aimed at the expression of the highest good for all. The 78 cards in the deck are read as archetypal aspects of the human experience that we may encounter within ourselves, with others, or in the world. The suits in The Good Tarotare the four elements, with Air standing in for the traditional Swords, Water replacing Cups, Earth for Pentacles, and for Wands, Fire. A crucial difference from traditional decks is that the cards' messages are all written as positive affirmations in the present tense, rather than forecasts, instructions, or warnings. Those who use the cards in the suggested way can integrate their energy immediately and personally.Even so, traditional tarot enthusiasts can still apply their favorite spreads to this deck as its formation doesn't stray too far from what is already familiar, and the breathtaking original artwork will be sure to inspire."Everyone wants guidance during times of uncertainty, a light shining in the dark," Colette writes. "The Good Tarotis especially helpful when you feel lost, want confirmation about a direction you're heading in, are concerned about the results of choices you've made, or seek greater understanding of your circumstances. It's about recognizing the many forms of truth and seeing the light that accompanies the shadow so you can help the light increase its brilliance." ...Show more