$19.99
AUD
Category: Fiction
Detective Dave Burrows returns in the most compelling and exciting case of his early career. In Barrabine, as Dave's workload skyrockets, Melinda, Dave's wife, is unhappy about being left alone so much to raise their eighteen-month-old daughter, Bec. It's not how Dave wants it either, but complaints, leads and crimes all have to be investigated - it's what he joined the force for. Melinda's interfering father isn't helping. He's never thought that Dave was right for his daughter and he's not shy about telling Dave what he's doing wrong. When things come to a head at home, Dave's policing mate, Spencer, comes up with a plan. In the most dangerous mission of his life, Dave knows what he's risking. If he's found out, he'll never see Melinda or Bec again. Of that he's sure. ...Show more
$29.99
AUD
Category: Fiction
Detective Dave Burrows returns in another suspenseful rural crime novel from bestselling author Fleur McDonald.
$19.99
AUD
Category: Fiction
A suspenseful novel of rural life and real country issues from our genuine Voice of the Outback, author of the bestselling Where the River Runs.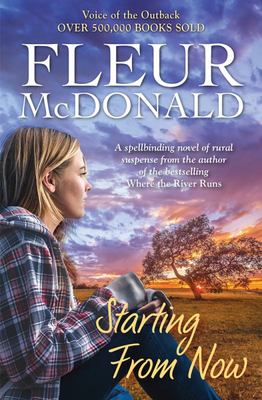 $29.99
AUD
Category: Fiction
A suspenseful novel of rural life and real country issues from our genuine Voice of the Outback, author of the bestselling Where the River Runs
$19.99
AUD
Category: Fiction | Series: The Penguin English Library
'I cannot allow any man to - to criticise my private conduct!' she exclaimed. 'Nor will I for a minute'. Hardy's powerful novel of swift sexual passion and slow-burning loyalty centres on Bathsheba Everdene, a proud working woman whose life is complicated by three different men - respectable farmer Bold wood, seductive Sergeant Troy and devoted Gabriel - making her the object of scandal and betrayal. Vividly portraying the superstitions and traditions of a small rural community, "Far from the Madding Crowd" shows the precarious position of a woman in a man's world. The Penguin English Library - 100 editions of the best fiction in English, from the eighteenth century and the very first novels to the beginning of the First World War. ...Show more
$32.99
AUD
Category: Fiction
TROUBLED BLOOD is the next thrilling instalment in the highly acclaimed, international bestselling series featuring Cormoran Strike and Robin Ellacott, written by Robert Galbraith, a pseudonym of J.K. Rowling. Private Detective Cormoran Strike is visiting his family in Cornwall when he is approached by a woman asking for help finding her mother, Margot Bamborough - who went missing in mysterious circumstances in 1974. Strike has never tackled a cold case before, let alone one forty years old. But despite the slim chance of success, he is intrigued and takes it on; adding to the long list of cases that he and his partner in the agency, Robin Ellacott, are currently working on. And Robin herself is also juggling a messy divorce and unwanted male attention, as well as battling her own feelings about Strike. As Strike and Robin investigate Margot's disappearance, they come up against a fiendishly complex case with leads that include tarot cards, a psychopathic serial killer and witnesses who cannot all be trusted. And they learn that even cases decades old can prove to be deadly . . . A breathtaking, labyrinthine epic, Troubled Blood is the fifth Strike and Robin novel and the most gripping and satisfying yet. Praise for the Strike series: 'The work of a master storyteller' Daily Telegraph 'A blistering piece of crime writing' Sunday Times 'Unputdownable' Daily Express 'Highly inventive storytelling' Guardian 'Superb . . . an ingenious whodunnit' Sunday Mirror 'Come for the twists and turns and stay for the beautifully drawn central relationship' Independent 'Outrageously entertaining' Financial Times   ...Show more
$99.99
AUD
Category: Fiction | Series: The Hunger Games
In the ruins of a place once known as North America lies the nation of Panem, a shining Capitol surrounded by twelve outlying districts. The Capitol keeps the districts in line by forcing them all to send one boy and one girl between the ages of twelve and eighteen to participate in the annual Hunger Ga mes, a fight to the death on live TV, and the odds are against all who play. With all four of Suzanne Collinss Hunger Games novels in one boxed set, you can step into the world of Panem with the 10th annual Hunger Games, and continue all the way to the electrifying conclusion.   ...Show more
$19.99
AUD
Category: Science Fiction-Fantasy | Series: Thrawn
THE SUNDAY TIMES BESTSELLERIn this definitive novel, readers will follow Thrawn's rise to power-uncovering the events that created one of the most iconic villains in Star Warshistory.One of the most cunning and ruthless warriors in the history of the Galactic Empire, Grand Admiral Thrawn is also one of the most captivating characters in the Star Warsuniverse, from his introduction in bestselling author Timothy Zahn?s classic Heir to the Empire,through his continuing adventures in Dark Force Rising,The Last Command,and beyond. But Thrawn?s origins and the story of his rise in the Imperial ranks have remained mysterious. Now, in Star Wars- Thrawn,Timothy Zahn chronicles the fateful events that launched the blue-skinned, red-eyed master of military strategy and lethal warfare into the highest realms of power-and infamy. After Thrawn is rescued from exile by Imperial soldiers, his deadly ingenuity and keen tactical abilities swiftly capture the attention of Emperor Palpatine. And just as quickly, Thrawn proves to be as indispensable to the Empire as he is ambitious; as devoted as its most loyal servant, Anakin Skywalker; and a brilliant warrior never to be underestimated. On missions to rout smugglers, snare spies, and defeat pirates, he triumphs time and again-even as his renegade methods infuriate superiors while inspiring ever greater admiration from the Empire. As one promotion follows another in his rapid ascension to greater power, he schools his trusted aide, ensign Eli Vanto, in the arts of combat, leadership, and the secrets of claiming victory. But even though Thrawn dominates the battlefield, he has much to learn in the arena of politics where ruthless administrator Arihnda Pryce holds the power to be a potent ally or a brutal enemy.All these lessons will be put to the ultimate test when Thrawn rises to admiral-and must pit all the knowledge, instincts, and battle forces at his command against an insurgent uprising that threatens not only innocent lives but also the Empire?s grip on the galaxy-and his own carefully laid plans for future ascendency. ...Show more
$32.99
AUD
Category: Fiction
'If Winton is an aria, Knox is early Rolling Stones' - The Guardian A stunning new novel about longing, regret, redemption and the terrible legacy of decades of secrets buried in an Australian beachside suburb.   A house perched impossibly on a cliff overlooking the stunning, iconic Bluebird Beach. Pr ime real estate, yet somehow not real estate at all, The Lodge is, like those who live in it, falling apart. Gordon Grimes has become the accidental keeper of this last relic of an endangered world. He lives in The Lodge with his wife Kelly who is trying to leave him, their son Ben who will do anything to save him, his goddaughter Lou who is hiding from her own troubles, and Leonie, the family matriarch who has trapped them here for their own good. But Gordon has no money and is running out of time to conserve his homeland. His love for this way of life will drive him, and everyone around him, to increasingly desperate risks. In the end, what will it cost them to hang onto their past? Acclaimed writer Malcolm Knox has written a classic Australian novel about the myths that come to define families and communities, and the lies that uphold them. It's about a certain kind of Australia that we all recognise, and a certain kind of Australian whose currency is running out.  Savage, funny, revelatory and brilliant, Bluebird exposes the hollowness of the stories told to glorify a dying culture and shows how those who seek to preserve these myths end up being crushed by them. ...Show more
$19.99
AUD
Category: Science Fiction-Fantasy | Series: Discworld | Reading Level: General Adult
"What shall we do?' said Twoflower. Panic?' said Rincewind hopefully. He always held that panic was the best means of survival. As it moves towards a seemingly inevitable collision with a malevolent red star, the Discworld could do with a hero. What it doesn t need is a singularly inept and cowardly wiz ard, still recovering from the trauma of falling off the edge of the world, or a well-meaning tourist and his luggage which has a mind (and legs) of its own. Which is a shame because that's all there is..." ...Show more
$19.99
AUD
Category: Science Fiction-Fantasy | Series: Discworld | Reading Level: General Adult
"They say that a little knowledge is a dangerous thing, but it is not one half so bad as a lot of ignorance. The last thing the wizard Drum Billet did, before Death laid a bony hand on his shoulder, was to pass on his staff of power to the eighth son of an eighth son. Unfortunately for his colleagues in the chauvinistic (not to say misogynistic) world of magic, he failed to check that the baby in question was a son. Everybody knows that there's no such thing as a female wizard. But now it's gone and happened, there's nothing much anyone can do about it. Let the battle of the sexes begin..." ...Show more
$19.99
AUD
Category: Science Fiction-Fantasy | Series: Discworld | Reading Level: General Adult
"This edition from Terry Pratchett finds Mort ending up as Death's apprentice. The job comes with some perks, bed and board, plus free use of the company horse.