$29.99
AUD
Category: Fiction
An edge-of-your-seat debut thriller with identical twins, a crazy inheritance and a boat full of secrets. Who can you trust? Absolutely nobody! Identical twins only look the same …Beautiful twin sisters Iris and Summer are startlingly alike, but beyond what the eye can see lies a darkness that sets the m apart. Cynical and insecure, Iris has long been envious of open-hearted Summer's seemingly never-ending good fortune, including her perfect husband, Adam. Called to Thailand to help sail the family yacht to the Seychelles, Iris nurtures her own secret hopes for what might happen on the journey. But when she unexpectedly finds herself alone in the middle of the Indian Ocean, everything changes. Now is her chance to take what she's always wanted - the idyllic life she's always coveted. But just how far will she go to get the life she's dreamed about? And how will she make sure no one discovers the truth?Written with the chilling suspense of The Girl on the Train and Before I Go to Sleep, The Girl in the Mirror is an addictive thriller about greed, lust, secrets and deadly lies. ...Show more
$24.99
AUD
Category: Fiction
Secrets can pull you under... In a remote, boat-access only house, Liz Dawson's lifeline to the real world is her window, where she watches the people who live in the three identical houses that sit side by side across the creek. But it's the middle house Liz finds herself drawn to most: the beautiful y oung mother, Delilah Waters, and her baby. When Dee and her baby go missing, last seen by the murky waters of Oyster Creek, it is a suspected murder-suicide. After all, it's no secret that Dee Waters never wanted children. She wasn't coping with the baby. Everyone in the town believes she leapt to her death, taking her child with her. Everyone except Liz. Wrestling with her own demons, Liz risks everything to uncover a truth that becomes more complex with every twist. Of all people, Liz knows that just because someone is a reluctant mother, it doesn't mean they don't love their child. And it doesn't mean they're capable of murder... does it? The Woman in the Window meets The Hand that Rocked the Cradle, Across the Water explores the darker side of motherhood, the pressure to conform, and how women's choices shape their fate. ...Show more
$32.99
AUD
Category: Fiction
THE LATEST ANCIENT EPIC FROM THE BESTSELLING AUTHOR OF EMPEROR AND WAR OF THE ROSES 490 B.C. Two great empires are about to go to war . . . The momentous struggle between Athens and Sparta as rival powers and political systems will last for twenty-seven years (431 to 404 BC). It will end in the fall of a dynasty. Filled with cunning political scheming and astonishing military prowess, invasions and treacheries, plagues and slaughters, passion and power, Conn Iggulden brings to life one of the most thrilling chapters of the ancient world. PRAISE FOR CONN IGGULDEN 'The pace is nail-biting and the set-dressing magnificent' Times 'Pacy . . . and packed with action' Sunday Times 'One of our finest historical novelists' Daily Express 'Iggulden is in a class of his own when it comes to epic, historical fiction' Daily Mirror ...Show more
$22.99
AUD
Category: Fiction
Tim Winton's classic love song to land and place, full of unforgettable characters, is now a feature film starring Garrett Hedlund, Kelly Macdonald and David Wenham.   Georgie Jutland is a mess. At forty, with her career in ruins, she finds herself stranded in White Point with a fisherman she doesn't love and two kids whose dead mother she can never replace. Leached of all confidence, she spends her days in isolated tedium and her nights in a blur of vodka self-recrimination. One morning, in the boozy pre-dawn gloom, she sees, a shadow drifting up the beach below - a loner called Luther Fox, with danger in his wake. ...Show more
$19.99
AUD
Category: Crime/Thriller | Series: Jack Reacher Ser.
'This is one of his best' - The Times Jack Reacher is back in a brand new white-knuckle read from Lee Child. It's a random universe, but once in a blue moon things turn out just right. In a nameless city, two rival criminal gangs are competing for control. But they hadn't counted on Jack Reacher arrivi ng on their patch. Reacher is trained to notice things. He's on a Greyhound bus, watching an elderly man sleeping in his seat, with a fat envelope of cash hanging out of his pocket. Another passenger is watching too ... hoping to get rich quick. As the mugger makes his move, Reacher steps in. The old man is grateful, yet he turns down Reacher's offer to help him home. He's vulnerable, scared, and clearly in big, big trouble. What hold could the gangs have on the old guy? Will Reacher be in time to stop bad things happening? The odds are better with Reacher involved. That's for damn sure. ...Show more
$19.99
AUD
Category: Crime/Thriller | Series: Jack Reacher Ser. | Reading Level: very good
It?s just a voice plucked from the air- 'The American wants a hundred million dollars?.For what? Who from? It?s 1996, and the Soviets are long gone. But now there?s a new enemy. In an apartment in Hamburg, a group of smartly-dressed young Saudis are planning something big.In the morning they gave Reache r a medal, and in the afternoon they sent him back to school.Jack Reacher is fresh off a secret mission. The Army pats him on the back and sends him to a school with only three students- Reacher, an FBI agent, and a CIA analyst. Their assignment? To find that American. And what he?s selling. And to whom. There is serious shit going on, signs of a world gone mad. Night School takes Reacher back to his army days, but this time he?s not in uniform. With trusted sergeant Frances Neagley at his side, he must carry the fate of the world on his shoulders, in a wired, fiendishly clever new adventure that will make the cold sweat trickle down your spine. ...Show more
$32.99
AUD
Category: Fiction
From the bestselling author of The Secrets She Keeps and Good Girl, Bad Girl comes a new thriller featuring the brilliant forensic psychologist Cyrus Haven as he becomes embroiled in an explosive murder case with disturbing origins. Criminal psychologist Cyrus Haven and Evie Cormac return in this mesmer izing new thriller from internationally bestselling author Michael Robotham, a writer Stephen King calls "an absolute master...with heart and soul." Who is Evie, the girl with no past, running from? She was discovered hiding in a secret room in the aftermath of a terrible crime. Her ability to tell when someone is lying helped Cyrus crack an impenetrable case in Good Girl, Bad Girl. Now, the closer Cyrus gets to uncovering answers about Evie's dark history, the more he exposes Evie to danger, giving her no choice but to run. Ultimately, both will have to decide if some secrets are better left buried and some monsters should never be named... ...Show more
$32.99
AUD
Category: Fiction
"Most confrontations, viewed from the wide angle of history, are minor disputes, sparks that quickly die out. But every now and then, someone strikes a match that lights up the whole planet." Henry Every was the seventeenth century's most notorious pirate. The press published wildly popular—and wildl y inaccurate—reports of his nefarious adventures. The British government offered enormous bounties for his capture, alive or (preferably) dead. But Steven Johnson argues that Every's most lasting legacy was his inadvertent triggering of a major shift in the global economy. Enemy of All Mankind focuses on one key event—the attack on an Indian treasure ship by Every and his crew—and its surprising repercussions across time and space. It's the gripping tale one of the most lucrative crimes in history, the first international manhunt, and the trial of the seventeenth century. Johnson uses the extraordinary story of Henry Every and his crimes to explore the emergence of the East India Company, the British Empire, and the modern global marketplace: a densely interconnected planet ruled by nations and corporations. How did this unlikely pirate and his notorious crime end up playing a key role in the birth of multinational capitalism? In the same mode as Johnson's classic historical thriller The Ghost Map, Enemy of All Mankind deftly traces the path from a single struck match to a global conflagration. ...Show more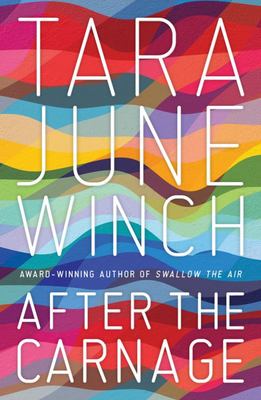 $24.99
AUD
Category: Fiction | Reading Level: General Adult
"A single mother resorts to extreme measures to protect her young son. A Nigerian student undertakes a United Nations internship in the hope of a better future. A recently divorced man starts a running group with members of an online forum for recovering addicts. Ranging from New York to Istanbul, from Pakistan to Australia, these unforgettable stories chart the distances in their characters' lives - whether they have grown apart from the ones they love, been displaced from their homeland, or are struggling to reconcile their dreams with reality. A collection of prodigious depth and variety, After the Carnagemarks the impressive evolution of one of our finest young writers." ...Show more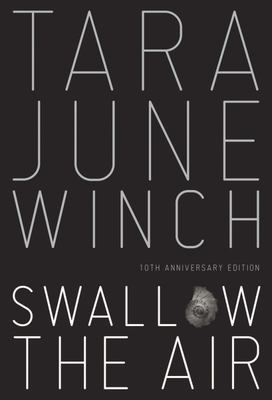 $29.99
AUD
Category: Fiction | Series: David Unaipon Award Winners Ser.
When May's mother dies suddenly, she and her brother Billy are taken in by Aunty. However, their loss leaves them both searching for their place in a world that doesn't seem to want them. While Billy takes his own destructive path, May sets out to find her father and her Aboriginal identity. Her journey leads her from the Australian east coast to the far north, but it is the people she meets, not the destinations, that teach her what it is to belong. Swallow the Air is an unforgettable story of living in a torn world and finding the thread to help sew it back together. ...Show more
$22.99
AUD
Category: Fiction
NEW YORK TIMES BESTSELLER * NATIONAL BOOK AWARD LONGLIST * "A feminist jeremiad nested inside a brilliant comic novel--a book that makes you laugh so hard you don't notice till later that your eyebrows have been singed off."--Ron Charles, The Washington Post FINALIST FOR THE NATIONAL BOOK CRITICS CIRCLE 'S JOHN LEONARD PRIZE FOR BEST FIRST BOOK * NAMED ONE OF THE TEN BEST BOOKS OF THE YEAR BY ENTERTAINMENT WEEKLY AND THE NEW YORK PUBLIC LIBRARY AND ONE OF THE BEST BOOKS OF THE YEAR BY The New York Times Book Review * Time * The Washington Post * Vanity Fair * Vogue * NPR * Chicago Tribune * GQ * Vox * Refinery29 * Elle * The Guardian * Real Simple * Parade * Good Housekeeping * Marie Claire * Town & Country * Evening Standard * Kirkus Reviews * BookPage * BookRiot * Shelf Awareness A finely observed, timely exploration of marriage, divorce, and the bewildering dynamics of ambition from one of the most exciting writers working today Toby Fleishman thought he knew what to expect when he and his wife of almost fifteen years separated: weekends and every other holiday with the kids, some residual bitterness, the occasional moment of tension in their co-parenting negotiations. He could not have predicted that one day, in the middle of his summer of sexual emancipation, Rachel would just drop their two children off at his place and simply not return. He had been working so hard to find equilibrium in his single life. The winds of his optimism, long dormant, had finally begun to pick up. Now this. As Toby tries to figure out where Rachel went, all while juggling his patients at the hospital, his never-ending parental duties, and his new app-assisted sexual popularity, his tidy narrative of the spurned husband with the too-ambitious wife is his sole consolation. But if Toby ever wants to truly understand what happened to Rachel and what happened to his marriage, he is going to have to consider that he might not have seen things all that clearly in the first place. A searing, utterly unvarnished debut, Fleishman Is in Trouble is an insightful, unsettling, often hilarious exploration of a culture trying to navigate the fault lines of an institution that has proven to be worthy of our great wariness and our great hope. Alma's Best Jewish Novel of the Year "Blisteringly funny, feverishly smart, heartbreaking, and true, Fleishman Is in Trouble is an essential read for anyone who's wondered how to navigate loving (and hating) the people we choose."--Cynthia D'Aprix Sweeney, author of The Nest "From its opening pages, Fleishman Is in Trouble is shrewdly observed, brimming with wisdom, and utterly of this moment. Not until its explosive final pages are you fully aware of its cunning ferocity. Taffy Brodesser-Akner's debut is that rare and delicious treat: a page-turner with heft."--Maria Semple ...Show more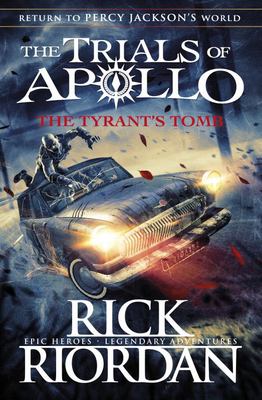 $22.99
AUD
Category: Science Fiction-Fantasy | Series: The Trials of Apollo
You will get to the Tiber alive. You will start to Jive. The former God Apollo is having a pretty rough time of it. Well, for one thing, he's called Lester. But being an awkward mortal teenager is the least of his worries. Though he and his friends (some of them) have emerged from the Burning Maze, t hey still have a triumvirate to defeat, oracles to rescue, and prophecies to decipher, so that the world may be saved, and Lester can become Apollo once again. But, right now, Caligula is sailing to San Francisco to deal with Camp Jupiter personally, and they have to get their first. Or risk its destruction . . . ...Show more