$19.99
AUD
Category: Fiction
Feyre survived Amarantha's clutches to return to the Spring Court o but at a steep cost. Though she now possesses the powers of the High Fae, her heart remains human, and it can't forget the terrible deeds she performed to save Tamlin's people. Nor has Feyre forgotten her bargain with Rhysand, the mesm erising High Lord of the feared Night Court. As Feyre navigates his dark web of political games and tantalising promises, a greater evil looms o and she might be key to stopping it. But only if she can step into her growing power, heal her fractured soul and have the courage to shape her own future o and the future of a world cloven in two. Sarah J. Maas is a global #1 bestselling author. Her books have sold more than nine million copies and been translated into 37 languages. Discover the sweeping romantic fantasy for yourself. ...Show more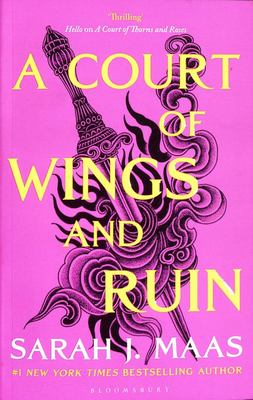 $19.99
AUD
Category: Fiction
Feyre has returned to the Spring Court, determined to gather information on Tamlin's manoeuvrings and the invading king threatening to bring her land to its knees. But to do so she must play a deadly game of deceit o and one slip may spell doom not only for Feyre, but for her world as well. As war bears down upon them all, Feyre must decide who to trust amongst the dazzling and lethal High Lords and hunt for allies in unexpected places. And her heart will face the ultimate test as she and her mate are forced to question whether they can truly trust each other. Sarah J. Maas is a global #1 bestselling author. Her books have sold more than nine million copies and been translated into 37 languages. Discover the sweeping romantic fantasy for yourself. ...Show more
$32.99
AUD
Category: Fiction
A story of the shattering impact of war on one German family, The Vanishing Sky is a deeply moving portrait of why decent, caring people falter when confronted by evil. They've wrecked the world, these men, and still they're not done. They'd take the sky if they could. Germany, 1945, and the bombs are f alling. In Heidenfeld, Etta and her husband Josef roam an empty nest- their eldest son Max is fighting on the frontlines, while fifteen-year-old Georg has swapped books for guns at a N rnberg school for the Hitler Youth. At home, news of the war provokes daily doses of fear as the planes grow closer, taking one city after the next. When Max is unexpectedly discharged, Etta is relieved to have her eldest home and safe. But soon after he arrives, it's clear that the boy who left is not the same returned. With Georg a hundred miles away and a husband confronting his own difficult feelings toward patriotic duty, Etta alone must gather the pieces of a splintering family, determined to hold them together in the face of an uncertain future. ...Show more
$19.99
AUD
Category: Fiction | Reading Level: very good
The debut novel from the author of Normal People. A sharply intelligent novel about friendship, lust, jealousy, and the unexpected complications of adulthood in the 21st century Frances is a cool-headed and darkly observant young woman vaguely pursuing a career in writing while studying in Dublin. He r best friend and comrade-in-arms is the beautiful and endlessly self-possessed Bobbi. At a local poetry performance one night, Frances and Bobbi catch the eye of Melissa, a well-known photographer, and as the girls are then gradually drawn into Melissa's world, Frances is reluctantly impressed by the older woman's sophisticated home and tall, handsome husband, Nick. However amusing and ironic Frances and Nick's flirtation seems at first, it gives way to a strange intimacy, and Frances' friendship with Bobbi begins to fracture. As Frances tries to keep her life in check, her relationships increasingly resist her control: with Nick, with her difficult and unhappy father, and finally, terribly, with Bobbi. Desperate to reconcile her inner life to the desires and vulnerabilities of her body, Frances' intellectual certainties begin to yield to something new: a painful and disorienting way of living from moment to moment. Written with gemlike precision and marked by a sly sense of humor, Conversations with Friends is wonderfully alive to the pleasures and dangers of youth and the messy edges of female friendship. Winner of the 2017 Sunday Times Young Writer of the Year.  "Sharp, funny, thought-provoking . . . a really great portrait of two young women as they're figuring out how to be adults."- Celeste Ng, "Late Night with Seth Meyers Podcast". ...Show more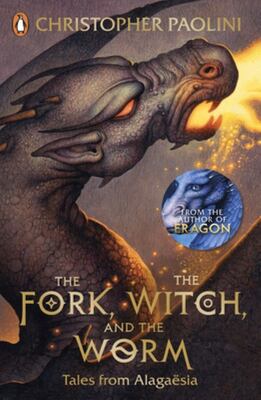 $17.99
AUD
Category: Science Fiction-Fantasy | Series: The Inheritance Cycle
Relish the incomparable imagination of Christopher Paolini in this thrilling new collection of stories based in the world of the Inheritance Cycle. It's been a year since Eragon departed Alagaësia in search of the perfect home to train a new generation of Dragon Riders. Now he is struggling with an en dless sea of tasks: constructing a vast dragonhold, wrangling with suppliers, guarding dragon eggs and dealing with belligerent Urgals and haughty elves. Then a vision from the Eldunarí, unexpected visitors and an exciting Urgal legend offer a much-needed distraction and a new perspective. _____ This volume features three original stories set in Alagaësia, interspersed with scenes from Eragon's own unfolding adventure. Included is an excerpt from the memoir of the unforgettable witch and fortune-teller Angela the herbalist, penned by Angela Paolini, the inspiration for the character, herself! ...Show more
$29.99
AUD
Category: Science Fiction-Fantasy
'Everything you'd want in a retelling of a classic fairy tale' JODI PICOULT'Absolutely spellbinding' STEPHANIE GARBERFall in love, break the curse.Break the curse, save the kingdom.Prince Rhen, the heir to Emberfall, is cursed. Forced to repeat the autumn of his eighteenth year over and over, he can onl y be freed by love. But at the end of each autumn he is transformed into a beast hell-bent on destruction, and after so many failed attempts, his kingdom and its people are barely holding on. Harper's life has never been easy, but she's learned to be tough enough to survive. She won't let anything hold her back, not her cerebral palsy or her mother's deteriorating health. But when she is sucked into Rhen's world, nothing is as it seems. Powerful forces are standing against Emberfalll ... and it will take more than a broken curse to save it from utter ruin. ...Show more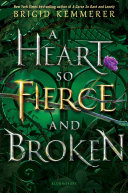 $29.99
AUD
Category: Science Fiction-Fantasy | Series: The\Cursebreaker Ser.
In the sequel to New York Times bestselling A Curse So Dark and Lonely, Brigid Kemmerer returns to the world of Emberfall in a lush fantasy where friends become foes and love blooms in the darkest of places.Find the heir, win the crown.The curse is finally broken, but Prince Rhen of Emberfall faces dark er troubles still. Rumors circulate that he is not the true heir and that forbidden magic has been unleashed in Emberfall. Although Rhen has Harper by his side, his guardsman Grey is missing, leaving more questions than answers. Win the crown, save the kingdom. Grey may be the heir, but he doesn't want anyone to know his secret. On the run since he destroyed Lilith, he has no desire to challenge Rhen--until Karis Luran once again threatens to take Emberfall by force. Her own daughter Lia Mara sees the flaws in her mother's violent plan, but can she convince Grey to stand against Rhen, even for the good of Emberfall?The heart-pounding, compulsively readable saga continues as loyalties are tested and new love blooms in a kingdom on the brink of war. ...Show more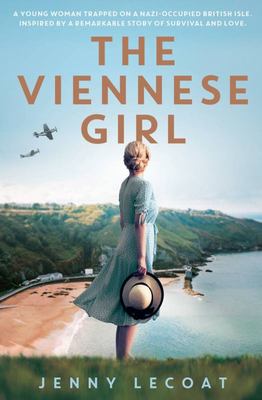 $29.99
AUD
Category: Fiction
Inspired by the true story of a young Jewish girl - Hedy Bercu - who fled to Jersey from Vienna only to find herself trapped on the island during the German occupation. In June 1940, the horror-struck inhabitants of Jersey watch as the German army unopposed takes possession of their island. Now only a short way from the English coast, the Germans plan their invasion.Hedy Bercu, a young Jewish girl from Vienna who fled to the isolation and safety of Jersey two years earlier to escape the Nazis, finds herself once more trapped, but this time with no way of escape.Hiding her racial status, Hedy is employed by the German authorities and secretly embarks on small acts of resistance. But most dangerously of all, she falls in love with German lieutenant Kurt Neumann -- a relationship on which her life will soon depend.A remarkable novel of finding hope and love when all seems at its darkest. ...Show more
$19.99
AUD
Category: Fiction | Series: Robert Langdon Ser.
MORE THAN 80 MILLION COPIES SOLD   Nominated as one of America's best-loved novels by PBS's The Great American Read   While in Paris, Harvard symbologist Robert Langdon is awakened by a phone call in the dead of the night. The elderly curator of the Louvre has been murdered inside the museum, his bo dy covered in baffling symbols. As Langdon and gifted French cryptologist Sophie Neveu sort through the bizarre riddles, they are stunned to discover a trail of clues hidden in the works of Leonardo da Vinci--clues visible for all to see and yet ingeniously disguised by the painter. Even more startling, the late curator was involved in the Priory of Sion--a secret society whose members included Sir Isaac Newton, Victor Hugo, and Da Vinci--and he guarded a breathtaking historical secret. Unless Langdon and Neveu can decipher the labyrinthine puzzle--while avoiding the faceless adversary who shadows their every move--the explosive, ancient truth will be lost forever. ...Show more
$32.99
AUD
Category: Fiction
Ruby is generous, sunny and funny - which is why all her friends, family and colleagues have turned up to celebrate her 50th birthday. But with a few too many glasses of champers under her belt, Ruby's speech doesn't go exactly to plan. Instead of the witty and warm words guests are expecting, Ruby take s her moment in the spotlight to reveal what she really thinks of them. Shocking them all, she also accuses her husband, Harry, of having an affair, and reads to the audience the evidence she found on his phone that very morning. And, saving the best till last, Ruby lambasts her calculatingly cruel mother for spending her life playing her three daughters against each other. It's blisteringly brutal. As the stunned gathering gawk at Ruby, the birthday girl concludes her bravura monologue with the throwaway comment that she has terminal cancer. She has cashed out her life savings and plans on taking her two sisters cruising until she dies. Only, do they really want to go with her? And, was it her medical results she read?     ...Show more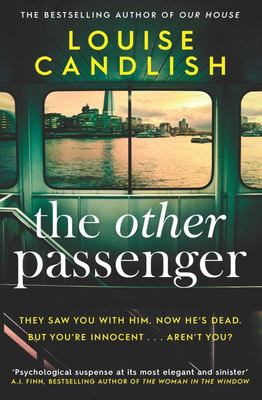 $29.99
AUD
Category: Fiction
FROM THE BESTSELLING AUTHOR OF OUR HOUSE, WINNER OF THE CRIME & THRILLER BOOK OF THE YEAR AWARD ''The Other Passenger is just brilliant; gripping from the first page with an incredible first person narrative and a sense of place that pulls you through the pages fast enough to make your head spin. Lo uise Candlish just gets better and better, I love her'' Lisa Jewell, author of The Family Upstairs  You''re feeling pretty smug about your commute to work by riverboat. No more traffic gridlock or getting stuck on the tube in tunnels (you''re claustrophobic). Now you''ve got fresh air, an iconic Thames view, a whole lifestyle upgrade. You''ve made new friends on board -- led by your hedonistic young neighbour, Kit -- and just had your first official ''water rats'' get-together. The day after the drinks, Kit isn''t on the morning boat. The river landmarks are all the same, but something''s off. When you disembark, the police are waiting. Kit''s wife, Melia, has reported him missing and another passenger saw you arguing on the last boat home after your drinks. Police say you had a reason to lash out at him. To threaten him. You protest. You and Kit are friends -- ask Melia, she''ll vouch for you. And who exactly is pointing the finger? What do they know about your private lives? No, whatever coincidences might have occurred last night, you are innocent, totally innocent. Aren''t you? Praise for The Other Passenger: ''I''m a HUGE fan of Louise Candlish''s writing but she really knocks it out of the park with this one, with its Hitchcockian atmosphere of mounting dread and almost unbearable suspense, building to its astonishing conclusion. And it''s all so frighteningly credible because the characters are so brilliantly drawn, so knowable. A must read!'' Lucy Foley, author of The Guest List ''A smart, twisty thriller that explores how money can warp relationships and destroy lives. A compulsive read that builds to an unimaginable climax. I couldn''t put it down!'' Shari Lapena, author of The Couple Next Door ''A novel like a roulette wheel at full tilt: smooth, hypnotic, relentless, exciting -- and ultimately, just as unpredictable...  Like every Candlish thriller, The Other Passenger is psychological suspense at its most elegant and sinister'' AJ Finn, author of The Woman in the Window ''A stunning masterwork of style and suspense. The Other Passenger is one of those novels that grabs us from the start, then keeps us up all night by brilliantly peeling back the layers of the story until we arrive--shockingly--at the truth. I can''t think of another novel in which the characters are so perfectly drawn'' Jeffery Deaver Praise for Louise Candlish ''Prepare to be gripped;Louise Candlish shows us the dark side of suburbia - and of ourselves'' Erin Kelly ''Sharp satire and a plot that builds to a roiling boil with a couple of oh-so-clever final twists in close succession: Louise Candlish is one very clever writer'' Sarah Vaughan ''Twists aplenty, and such wonderful observation - I loved it'' Clare Mackintosh ''An addictive, twisty page-turner that will give you nightmares about the suburban dream'' Alice Feeney ''A delicious slice of suburban noir. I loved it'' Harriet Tyce ''Oozing with scandal, it''s a compelling read'' Woman & Home ''A devilishly good thriller with a wicked ending. Loved it'' Laura Kemp ''Utterly gripping'' RED ''Louise Candlish captures the mores of middle-class life and our worst, curtain-twitching tendencies like no one else'' RED, online  ''Full of marvellously toxic characters'' Best ...Show more
$32.99
AUD
Category: Fiction | Series: Jack Mcevoy Ser.
The hero of The Poet and The Scarecrow is back in the new thriller from #1 New York Times bestselling author Michael Connelly. Jack McEvoy, the journalist who never backs down, tracks a serial killer who has been operating completely under the radar--until now. Veteran reporter Jack McEvoy has taken dow n killers before, but when a woman he had a one-night stand with is murdered in a particularly brutal way, McEvoy realizes he might be facing a criminal mind unlike any he's ever encountered. McEvoy investigates--against the warnings of the police and his own editor--and makes a shocking discovery that connects the crime to other mysterious deaths across the country. But his inquiry hits a snag when he himself becomes a suspect. As he races to clear his name, McEvoy's findings point to a serial killer working under the radar of law enforcement for years, and using personal data shared by the victims themselves to select and hunt his targets. Called "the Raymond Chandler of this generation" (Associated Press), Michael Connelly once again delivers an unputdownable thriller that reveals a predator operating from the darkest corners of human nature--and one man courageous and determined enough to stand in his way. ...Show more