$14.99
AUD
Category: Children's Non-Fiction | Reading Level: good
Centring on the infamous fire-bombing of Dresden in the Second World War, Billy Pilgrim's odyssey through time reflects the journey of our own fractured lives as we search for meaning in what we are afraid to know.
$24.95
AUD
Category: Children's Non-Fiction | Series: African Collection
First with your head and then with your heart.... So says Hoppie Groenewald, boxing champion, to a seven-year-old boy who dreams of being the welterweight champion of the world. For the young Peekay, it is a piece of advice he will carry with him throughout his life. Born in a South Africa divided by racism and hatred, this one small boy will come to lead all the tribes of Africa. Through enduring friendships with Hymie and Gideon, Peekay gains the strength he needs to win out. And in a final conflict with his childhood enemy, the Judge, Peekay will fight to the death for justice.... Bryce Courtenay's classic bestseller is a story of the triumph of the human spirit--a spellbinding tale of all ages. "It's hard to imagine a reader delivering his audience so completely to a foreign locale as Humphrey Bower does in this coming-of-age novel." --AudioFile   ...Show more
$29.99
AUD
Category: Children's Non-Fiction | Reading Level: good
A masterpiece from the Orange Prize-winning, New York Times number one bestselling author of Commonwealth and Bel Canto: a story of love, family, sacrifice, and the power of place. Danny Conroy grows up in the Dutch House, a lavish folly in small-town Pennsylvania taken on by his property developer fath er. Though his father is distant and his mother is absent, Danny has his beloved sister Maeve: Maeve, with her wall of black hair, her delicacy, her brilliance. Life is comfortable and coherent, played out under the watchful eyes of the house's former owners in the frames of their oil paintings, or under the cover of the draperies around the window seat in Maeve's room. Then one day their father brings Andrea home: Andrea, small and neat, a dark hat no bigger than a saucer pinned over a twist of her fair hair. Though they cannot know it, Andrea's advent to the Dutch House sows the seed of the defining loss of Danny and Maeve's lives. Her arrival will exact a banishment: a banishment whose reverberations will echo for the rest of their lives. For all that the world is open to him, for all that he can accumulate, for all that life is full, Danny and his sister are drawn back time and again to the place they can never enter, knocking in vain on the locked door of the past. For behind the mystery of their own enforced exile is that of their mother's self-imposed one: an absence more powerful than any presence they have known. Told with Ann Patchett's inimitable blend of wit and heartbreak, The Dutch House is a story of family, betrayal, love, responsibility and sacrifice; of the powerful bonds of place and time that magnetize and repel us for our whole lives, and the lives of those who survive us. ...Show more
$19.99
AUD
Category: Children's Non-Fiction
An emotional tale of identity, sexuality and suicide derived from personal experience about three teenage boys who struggle to come to terms with their homosexuality in a small Western Australian town. On the surface, nerd Zeke, punk Charlie and footy wannabe Hammer look like they have nothing in common . But scratch that surface and you'd find three boys in the throes of coming to terms with their homosexuality in a town where it is invisible. Invisible Boys is a raw, confronting YA novel that explores the complexities and trauma of rural gay identity with painful honesty, devastating consequences and, ultimately, hope. ...Show more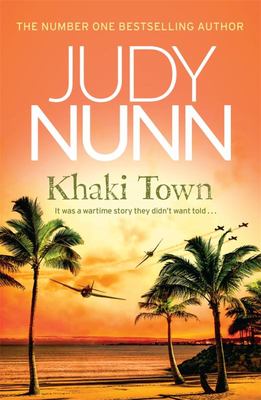 $32.99
AUD
Category: Children's Non-Fiction
Khaki Town, Judy Nunn's exciting new novel, is inspired by a true wartime story that has remained a well-kept secret for over seventy years. It seems to have happened overnight, Val thought . How extraordinary. We've become a khaki town. It's March 1942. Singapore has fallen. Darwin has been bombed. Au stralia is on the brink of being invaded by the Imperial Japanese Forces. And Val Callahan, publican of The Brown's Hotel in Townsville, could not be happier as she contemplates the fortune she's making from lonely, thirsty soldiers. Overnight the small Queensland city is transformed into the transport hub for 70,000 American and Australian soldiers destined for combat in the South Pacific. Barbed wire and gun emplacements cover the beaches. Historic buildings are commandeered. And the dance halls are in full swing with jazz, jitterbug and jive. The Australian troops begrudge the confident, well-fed 'Yanks' who have taken over their town and their women. There's growing conflict, too, within the American ranks, because black GIs are enjoying the absence of segregation. And the white GIs don't like it. As racial violence explodes through the ranks of the military, a young United States Congressman, Lyndon Baines Johnson, is sent to Townsville by his president to investigate. 'Keep a goddamned lid on it, Lyndon,' he is told, 'lest it explode in our faces...'         ...Show more
$45.00
AUD
Category: Children's Non-Fiction
In this long-awaited follow-up to his much-loved bestseller, written with his sons Cameron and Arthur, Conn Iggulden presents a brand-new compendium of cunning schemes, projects, tricks, games and tales of extraordinary courage. Whether it's building a flying machine, learning how to pick a lock, disco vering the world's greatest speeches or mastering a Rubik's cube, The Double Dangerous Book for Boys is the ultimate companion, to be cherished by readers and doers of all ages. ...Show more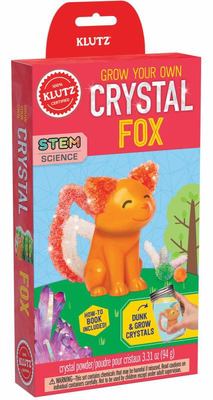 $19.99
AUD
Category: Children's Non-Fiction | Series: Klutz Ser.
Give this forest friend some flair with a glittering crystal tail and ears! Create a sparkly, crystal-covered friend. Choose from a unicorn, narwhal, dragon, fox, or collect them all! Bend and insert colourful pipe cleaners into your animal to form dazzling details like the unicorn's horn or the dragon 's wings. Soak the figurine in our specially formulated crystal solution, and watch the crystals magically grow. Along the way, learn the science behind the magic in the included 20-page book. Comes with: Crystal powder, colourful pipe cleaners, and a custom-molded, plastic animal base ...Show more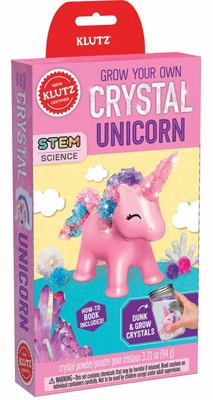 $19.99
AUD
Category: Children's Non-Fiction | Series: Klutz
Make this unicorn even more amazing by growing a crystal horn, mane, and tail. Create a sparkly, crystal-covered friend. Choose from a unicorn, narwhal, dragon, fox, or collect them all! Bend and insert colourful pipe cleaners into your animal to form dazzling details like the unicorn's horn or the drag on's wings. Soak the figurine in our specially formulated crystal solution, and watch the crystals magically grow. Along the way, learn the science behind the magic in the included 20-page book. Comes with: Crystal powder, colourful pipe cleaners, and a custom-molded, plastic animal base ...Show more
$19.99
AUD
Category: Children's Non-Fiction | Series: Klutz
This "unicorn of the sea" will shimmer with a crystal spout, horn, and tail. Create a sparkly, crystal-covered friend. Choose from a unicorn, narwhal, dragon, fox, or collect them all! Bend and insert colourful pipe cleaners into your animal to form dazzling details like the unicorn's horn or the drago n's wings. Soak the figurine in our specially formulated crystal solution, and watch the crystals magically grow. Along the way, learn the science behind the magic in the included 20-page book. Comes with: Crystal powder, colourful pipe cleaners, and a custom-molded, plastic animal base ...Show more
$24.99
AUD
Category: Children's Non-Fiction
Soar into space with this glorious love story of alien folk, from the creators of The Gruffalo and Stick Man. The Smeds (who are red) never mix with the Smoos (who are blue). So when a young Smed and Smoo fall in love, their families strongly disapprove. But peace is restored and love conquers all in t his happiest of love stories. There's even a gorgeous purple baby to celebrate! With fabulous rhymes and breathtaking illustrations, this book is literally out of this world! ...Show more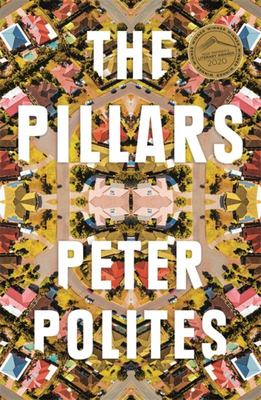 $32.99
AUD
Category: Children's Non-Fiction | Reading Level: near fine
A thrilling new novel from the author of critically acclaimed DOWN THE HUME. Don't worry about the housing bubble, she would say. Don't worry about the fact that you will never be able to afford a home. Worry about the day after. That's when they will all come, with their black shirts and bayonets, and then you will see the drowned bodies and slit necks. And I would stand there and say, But Mum, I'm ten years old. Working as a writer hasn't granted Panos the financial success he once imagined, but lobbying against a mosque being built across the road from his home (and the occasional meth-fuelled orgy) helps to pass the time. He's also found himself a gig ghostwriting for a wealthy property developer. The pay cheque alone is enough for him to turn a blind eye to some dodgy dealings - at least for the time being. In a world full of flashy consumerism and aspiration, can Panos really escape his lot in life? And does he really want to? A novel of dark desires and moral gray areas, THE PILLARS is an extraordinary new novel from one of Australia's most exciting contemporary voices. Praise for DOWN THE HUME: 'DOWN THE HUME [is] essential reading in these times of "border protection"' - The Saturday Paper 'DOWN THE HUME's propulsive rhythm feels like entering a strong current. Its fast pace and escalating plot are typical of the noir genre, but it is also filled with unexpected and precise turns of phrase, which can shift quickly from the menial to the lyrical.' - The Guardian 'DOWN THE HUME should rightly take its place alongside the fiction of Christos Tsiolkas [and] Maxine Beneba Clarke... as work that reflects the reality and occasional ugliness of Australia's multiculturalism.' - Australian Book Review 'DOWN THE HUME is a robust study of ethnic, class and sexual identities in contemporary Australia.'- The Weekend Australian ...Show more
$17.99
AUD
Category: Children's Non-Fiction
Everyone has scars. Some are just easier to see ... 16-year-old Ava Lee is heading back to school one year after a house fire left her severely disfigured. She's used to the names, the stares, the discomfort, but there's one name she hates most of all: Survivor. What do you call someone who didn't mean to survive? Who sometimes wishes she hadn't? When she meets a fellow survivor named Piper at therapy, Ava begins to feel like she's not facing the nightmare alone. Piper helps Ava reclaim the pieces of Ava Before the Fire, a normal girl who kissed boys and sang on stage. But Piper is fighting her own battle for survival, and when Ava almost loses her best friend, she must decide if the new normal she's chasing has more to do with the girl in the glass--or the people by her side.  The beautiful, life-affirming debut from Erin Stewart that's being called the YA answer to Wonder. Perfect for fans of Jandy Nelson, Nicola Yoon and John Green. ...Show more